Ton Rosendaal published a proposal in the Blender Developers Blog about Blender's long-term development plans for 2020–2025.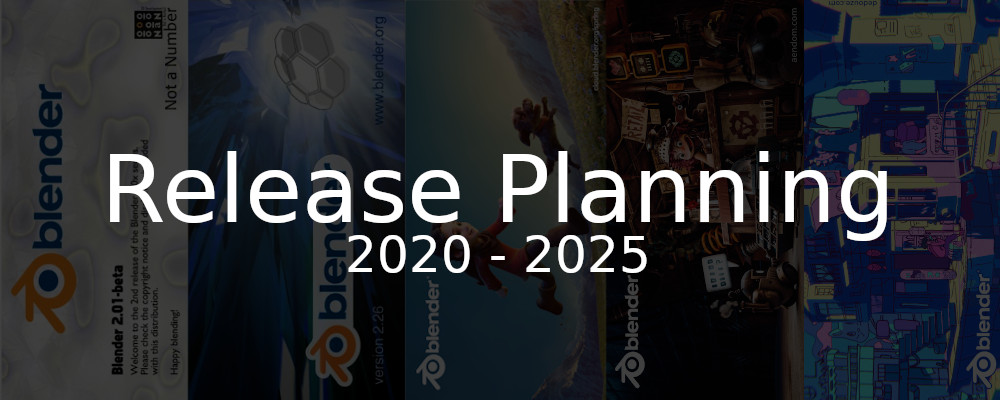 LTS
Starting with version 2.83 the LTS (Long Term Support) Blender versions are expected. Marking the release with the "LTS" abbreviation means its much longer technical support and its suitability for use in studio production cycles (pipelines). The LTS version marks Blender as the industry standard.
It is planned to release the LTS version once a year, providing its support for two years. During this period, bug fixes and updates for the new hardware are guaranteed and full version compatibility is provided (updations will not break the projects developed in the same Blender version).
The introduction of LTS versions is required by large studios and corporations with their strict pipelines, inside of which it is undesirable to switch from version to version without ensuring full compatibility of project development. Any studio project development will take place within the single official LTS Blender version.
At the same time, the LTS versions of Blender will no way reduce or delay the regular and experimental releases of the program. New versions and daily builds will be released, as before.
Releases with new numbers
Ton suggests to speed up upcoming Blender releases.
In the summer of 2020, Blender 2.90 will be released with the "particle nodes" as the main feature.
Version 3.0 is scheduled for release in the summer of 2021. Regular releases (3.1, 3.2 …) will be published over the next two years. And then, in 2023, version 4.0 awaits us.
Blender Upcoming Release Calendar
Blender 2.8
2.82 – February 2020
2.83 LTS – May 2020
Blender 2.9
2.90 – August 2020
2.91 – November 2020
2.92 – February 2021
2.93 LTS – May 2021
Blender 3.0
3.0 – August 2021
3.1 – November 2021
3.2 – February 2022
3.3 LTS – May 2022
3.4 – August 2022
3.5 – November 2022
3.6 – February 2023
3.7 LTS – May 2023
Blender 4.0
4.0 – August 2023
4.1 – November 2023
4.2 – February 2024
4.3 LTS – May 2024
4.4 – August 2024
4.5 – November 2024
4.6 – February 2025
4.7 LTS – May 2025